1964 skipper *ballet class* #1905 -metallic tutu w/ pink tulle, black tights, satin shoe bag & ballerina slippers -vintage barbi
SKU: EN-Y20159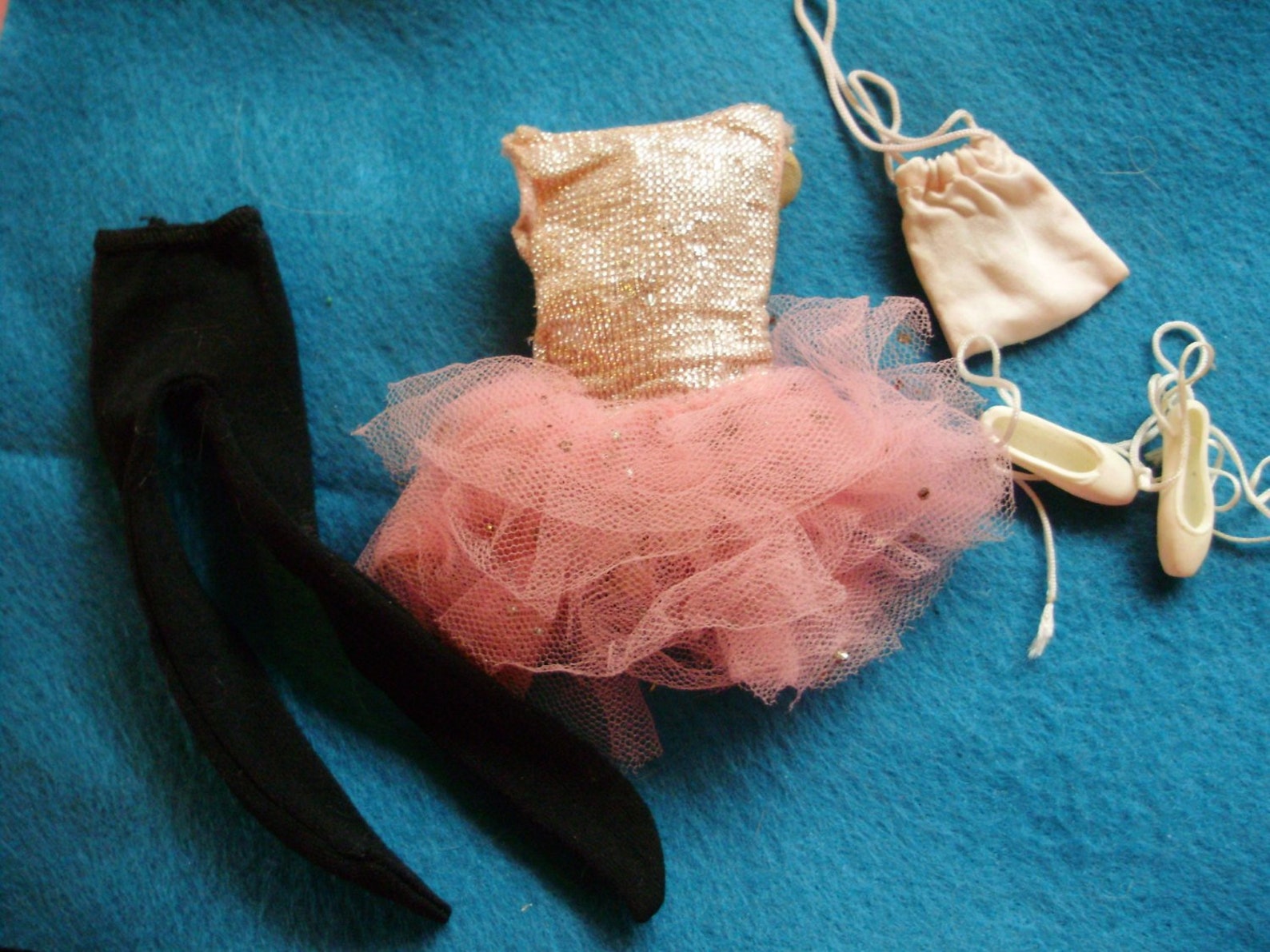 1964 skipper *ballet class* #1905 -metallic tutu w/ pink tulle, black tights, satin shoe bag & ballerina slippers -vintage barbi
Verge Restaurant and Lounge: 11 a.m. April 1, Toll House Hotel, 140 South Santa Cruz Ave., Los Gatos. Featuring prime rib with creamed horseradish and au jus and eggs benedict. Includes unlimited mimosas, live music and an appearance by the Easter bunny. $32-$72. http://bit.ly/2oHWOvn. Waterbar: 11:30 a.m.-2:30 p.m., 399 The Embarcadero, San Francisco. Three course menu featuring:  anchor steam battered rock cod sandwich, American caviar scramble, and smoked trip-tip. $55. www.waterbarsf.com/#home-2.
Cantor Arts Center at Stanford University, The Anderson Collection: Works by Jackson Pollock, Willem de Kooning, Philip Guston, Ellsworth Kelly, Terry Winters, Sean Scully and Vija Celmins, "Loose in Some Real Tropics: Robert Rauschenberg's "Stoned Moon" Projects, 1969–70," through March 16, "She Who Tells 1964 skipper *ballet class* #1905 -metallic tutu w/ pink tulle, black tights, satin shoe bag & ballerina slippers -vintage barbi a Story: Women Photographers from Iran and the Arab World," Jan, 28 through May 4, "Promised Land: Jacob Lawrence at the Cantor," April 1 through Aug, 3, "500 Years of Italian Master Drawings from the Princeton University Art Museum," May 27 through Aug, 24, "Piranesi's Paestum: Master Drawings Uncovered," Aug, 19 through Nov, 30, "Artists at Work," Sept, 9 through Jan, 18, 2016, 11 a.m.-5 p.m, Wednesdays-Sundays; Thursdays till 8 p.m, Cantor Arts Center, Stanford campus, off Palm Drive at Museum Way, 650-723-4177 or museum.stanford.edu..
TheatreWorks. "Silent Sky." By Lauren Gunderson. Through Feb. 9. Directed by Meredith McDonough. "The story of Henrietta Leavitt, an early 20th-century astronomer struggling for recognition in a man's industry." 7:30 p.m. Tuesdays, Wednesdays; 8 p.m. Thursdays-Saturdays; 2 p.m. Saturdays, Sundays; 7 p.m. Sundays. Mountain View Center for the Performing Arts, 500 Castro St., Mountain View. $19 (30 and under)-$73 (savings available for educators and seniors). theatreworks.org or 650-463-1960.
Steve Andrews testified during a civil trial that his daughter didn't want to eat, bathe or be around people and that all she did was cry after she discovered in 2009 that the nude videos had been posted online, He said she remains afraid of people to this day, Erin Andrews cried throughout her father's testimony and he choked up several times on the stand, The father told the jury that before a stalker made the secret recordings, Erin Andrews 1964 skipper *ballet class* #1905 -metallic tutu w/ pink tulle, black tights, satin shoe bag & ballerina slippers -vintage barbi was always fun, always joking, and that she was happy and successful in her career as a sportscaster at ESPN, That has now changed, he said, remarking, "She's afraid, She's afraid of crowds, afraid of people, She doesn't trust anymore."..
For the record, Gabay inherited the rights to the framework of American Ballet Theatre's "Nutcracker" because of that company's affiliation with Ballet San Jose. She is drawing largely from that recipe, from set pieces and props to costumes, but she wants to give the story a whole new feel. "In some ways, this is a lot harder than building a ballet from the ground up because there are parameters that I have to stick to," she says, "but I also want to add my own perspective to it.".